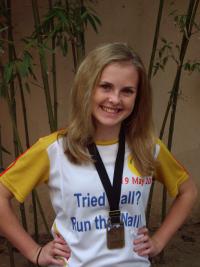 Hi, my name is Elizabeth Goldrup. I will turn 14 this October. I am an American living in Beijing. I can't wait to celebrate with China next year when it hosts the whole world in the greatest Olympics ever!
My Great Wall Marathon
Not long ago, I ran the Great Wall Marathon. Some of my relatives worried that I might get hurt running and they encouraged me to wait until I got older. I am glad I didn¡¯t wait!
All along the way, Chinese people welcomed me and made me feel right at home. As I ran up one steep hill, a nice Chinese lady tried to give me a friendly push. After running about 25 kilometers, a nice man gave me a tomato from his garden. That was the best tomato I¡¯ve ever tasted! When I ran through villages, everyone encouraged me with shouts of ¡°jiayou, jiayou.¡± It was awesome.
When I crossed the finish line, I wasn¡¯t the fastest runner or the slowest, but I might have been the happiest. That beautiful spring day, I was so happy to be in China , running on the greatest wall in the world, surrounded by people who wanted me to do my best even though they didn¡¯t know me.
This was the day I caught the spirit of the Chinese people and of living in China.
I Love China
I love all of China , not just the Marathon . Wherever I¡¯ve gone in China , people are proud to share their amazing culture and history. The people of Yunnan Province , for example, have so many different customs and backgrounds, but they all live together in peace and harmony. And they all share at least two things in common: they love their families and they love their country.
When I go home each summer, my family members in America ask me what China is like. Some of them have no idea how quickly China is growing. During the three years that I¡¯ve lived here, I¡¯ve seen all sorts of new buildings, museums, and other neat places to visit rising all over Beijing .
My favorite place, the Temple of Heaven , was here long before I was born and even before there was a modern Olympics. Everything at the Temple of Heaven , even the steps, has special significance. On weekends, I love to go there and listen to people sing the traditional songs most important to them.
I like to share the Temple of Heaven with our visitors from America . After I return to American in a couple years, I hope to share America with friends from China . I know one thing: if I see a Chinese person running a marathon in the United States , I¡¯ll be the one yelling out the words ¡°jiayou, jiayou.¡± <!-START:PHOTO GALLERY COLUMN ---------------------------------------------->