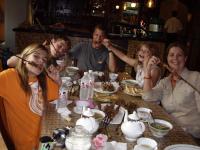 Pierre de Coubertin - do you know who he is? He is the father/founder of the Modern Olympic Games - it is because of his vision that after 1500 years, the Olympics were reborn in 1896. And he is my uncle (well, grand uncle), a true relative. Wouldn't it be amazing to have a relative of the founder of the Modern Olympic Games to be a torchbearer here in China?
China and Hong Kong is our home now, and has been for the past 15 years - our 3 children are born here and have lived here all their lives. They know nothing better than living here. It is strange but, because we have been here for so long, we don't see ourselves as "expats", but as new residents.
I have worked in China and Hong Kong for over 15 years, covered the country from East to West and North to South. But something was really missing in my life - I can speak Chinese, but just not good enough. So I decided, after a long and successful career, to take some time off and learn Chinese full-time. Finally! This has been and is still such a rewarding experience and I am improving every day now.
Alex, my husband, is a local entrepreneur, his business has been based in China and Hong Kong since we have been here.
As a family, we are truly blessed to be here, especially for the most exciting of all events - the Olympics. To be a part of this event would be a true inspiration... <!-START:PHOTO GALLERY COLUMN ---------------------------------------------->